Racinel Nordic Sport&Agility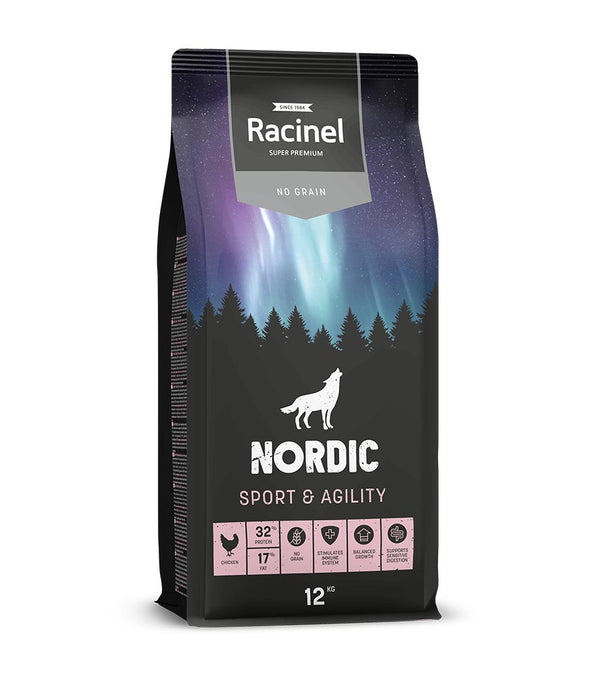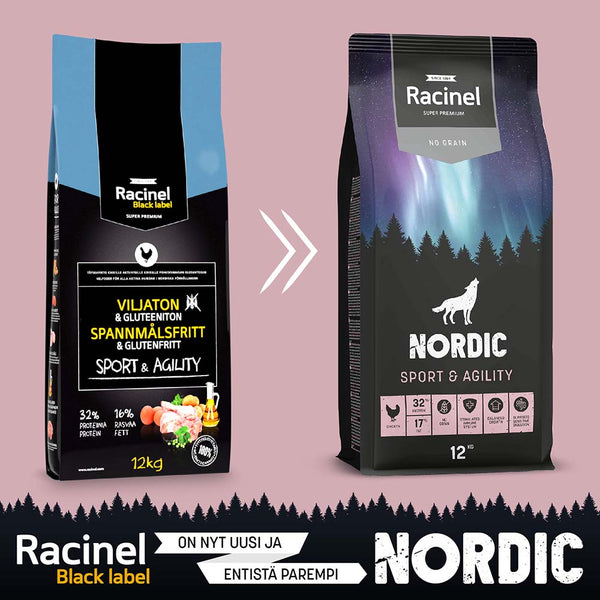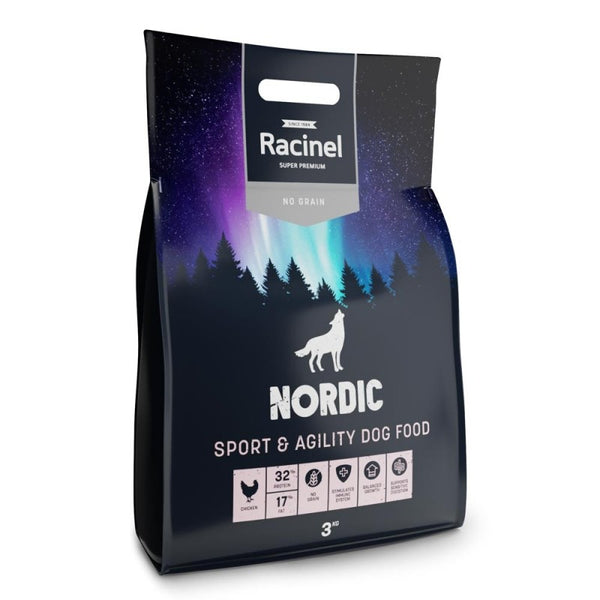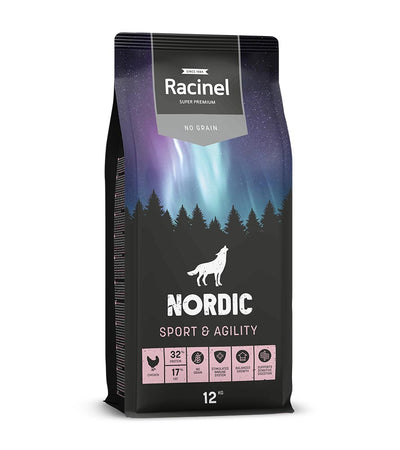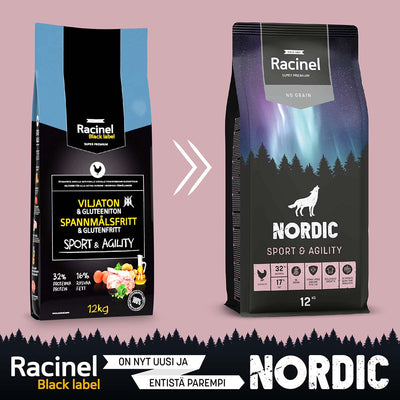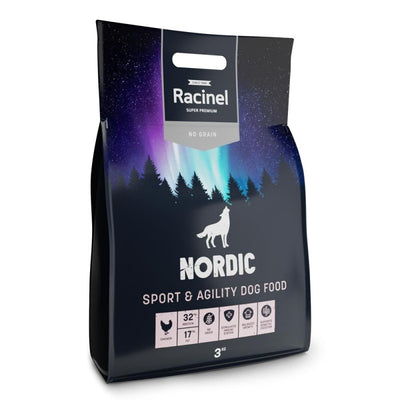 Racinel Nordic Sport&Agility
This product is produced without grain.
The feed contains an increased content of energy (17% fat) to cover the need in the active dog.
Easily digestible ingredients and functional fibres (Fructo-oligosaccharides) supports the digestive system.
Glucosamine, chondroitine and omega-3-fatty acids supports the joints.
Bag sizes 3 kg and 12 kg
Composition:
Processed animal protein (poultry/chicken, 30%), peas, whole potato, chicken fat (6%), salmon oil (cold pressed), pork fat (2%), ligno cellulose (vegetable fibre), minerals, dried whole egg, lecithins, fructo-oligosaccharides (0.1%), glucosamine (0.076%), chondroitin sulphate (0.024%).
Analytical constituents:
Protein: 32%
Fat content: 17%
Crude fibre: 2%
Crude ash: 8%
Calcium: 1,4 %
Phosphorus: 1,0 %
Additives per kg:
Vitamins:
Vitamin D3 - cholecalciferol: 1800 IU
L-carnitine: 100 mg
Trace elements:
Iodine (Calcium iodate, water free): 4.48 mg
Copper (Copper chelate of amino acids hydrate): 5.00 mg
Zinc (Zinc sulphate, monohydrate): 84.91 mg
Zinc (Zinc chelate of amino acids hydrate): 30.00 mg
Selenium (Sodium selenite): 0.09 mg
Selenium (Selenomethionine): 0.017 mg
Amino Acids:
Taurine: 1000 mg
Omega-3 and 6 fatty Acids:
Omega-3-fatty acids, calculated: 5.0 g
Omega-6-fatty acids, calculated: 23 g
Natural antioxidants (tocopherols, rosemary extract) 0.1%
Metabolizable energy:
388 kcal/100g
Ready to serve. Dogs must always have access to a bowl of fresh drinking water.
When you start your dog on a new feed, it is important to change over slowly, to decrease the risk of diarrhea.
Feed change over 1 week:
Day 1 & 2: 25% of the new feed and 75% of the old feed.
Day 3 & 4: 50% of the new feed and 50% of the old feed.
Day 5 & 6: 75% of the new feed and 25% of the old feed.
Day 7: 100% of the new feed.
It is recommended to feed in 1-2 daily measured meals.
The feeding guide is an indication only, as the nutritional requirement of individual dogs varies according to breed, sex, activity level etc.
Storage: Dry and cool. Keep the bag tightly closed after opening or store in a closed container.