Racinel Nordic Puppy chicken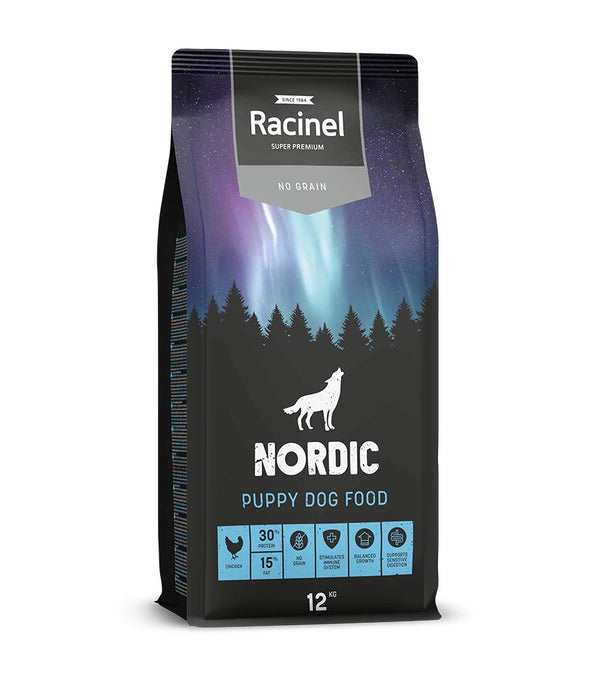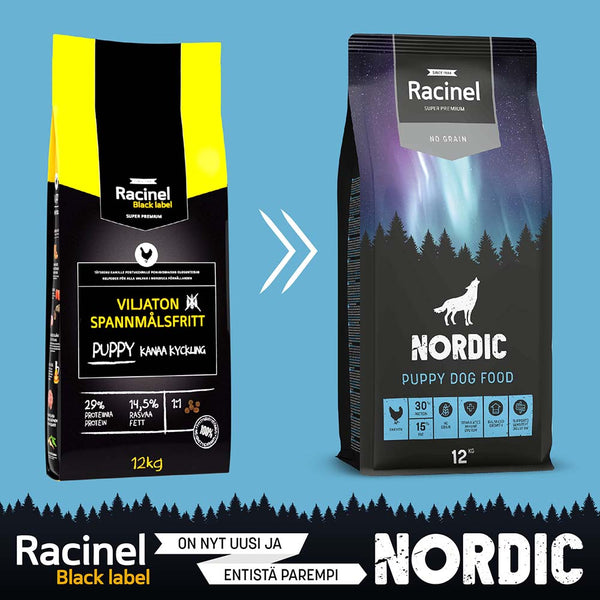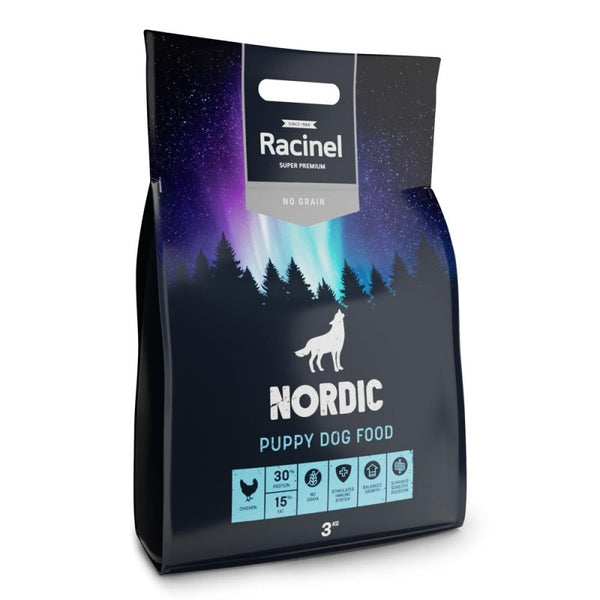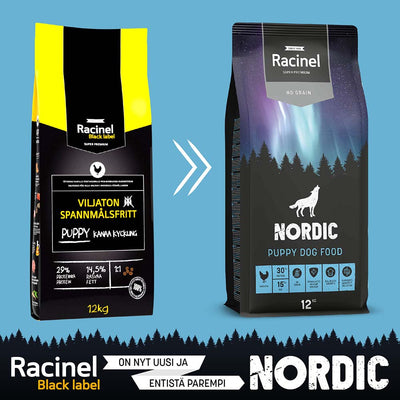 Racinel Nordic Puppy chicken
This product is produced without grain.
Puppies undergo a rapid development during their period of growth. They grow fast and therefore they need extra energy during this phase. At the same time,
their intestinal system is undergoing development and maturing, making it an additional challenge for the digestive system to absorb all the nutrients and energy
needed for growth. This is why puppies have an increased risk of having diarrhea, as they need almost more food than the digestive system can hold, to get sufficient
nutrition. At the same time, puppies are learning how to eat dry food, which is also a challenge for the digestive system. However, it is important to say, that most
puppies get over the diarrhea and therefore it is rarely necessary to change feed. The immune system is stimulated by providing antioxidants that help develop the immune system.
Bag sizes 3 kg and 12 kg
Composition:
Processed animal protein (poultry/chicken, 24%), peas, whole potato, potato starch, chicken fat, pea starch, salmon oil (cold pressed), beet pulp (2%), dried whole egg, minerals, lecithins, fructo-oligosaccharides (0.1%), glucosamine, chondroitin sulphate.
Analytical constituents:
Protein: 30%
Fat content:15%
Crude fibre: 2%
Crude ash: 7%
Calcium: 1,2 %
Phosphorus: 0,9 %
Additives per kg:
Vitamins:
Vitamin A - retinyl acetate: 1980IU
Vitamin D3 - cholecalciferol: 448 IU
Vitamin C (L-ascorbic acid): 50 mg
L-carnitine: 100 mg
Trace elements:
Iodine (Calcium iodate, water free): 4.93 mg
Copper (Copper chelate of amino acids hydrate): 5.00 mg
Zinc (Zinc sulphate, monohydrate): 93.41 mg
Zinc (Zinc chelate of amino acids hydrate): 30.00 mg
Selenium (Sodium selenite): 0.10 mg
Selenium (Selenomethionine): 0.026 mg
Amino Acids:
Taurine: 1000 mg
Natural antioxidants (tocopherols, rosemary extract) 0.1%
Metabolizable energy:
386 kcal/100g
Ready to serve. Dogs must always have access to a bowl of fresh drinking water.
The puppy's growth phase is incredibly intense and fast. They will increase their birth weight by a factor of 50 for the small dog breeds and by up to a factor of 100 for the
large dog breeds. For the puppy to get enough energy for this intense growth, it has to consume rather large amounts of feed. Since their digestive system is also immature, it is a bit of a challenge for puppies to ingest these quantities. To avoid overloading the puppy's digestive system, it is important to distribute the daily feed ration to as many servings as possible, preferably 5 servings or more, as it reduces the risk of a diaarhea, because the strain on the bowel is reduced. When the puppy is over 6 months you can easily reduce to 3 servings daily. When the puppy is about to become an adult, it will be optimal to feed twice a day and continue this into adulthood.
Dogs with adult weight of 1-10 kg are adults at 8-10 months.
Dogs adult weight of 10-25 kg are adults at 12 months.
Dogs adult weight of 25-45 kg are adults at 15 months.
Dogs adult weight over 45 kg are adults at 18 months.
Pregnant bitches: From the 6th gestation week the feed quantity should be increased by approx. 10% per week until birth.
Lactating bitches: Feed ad libitum
The feeding guide is an indication only, as the nutritional requirement of individual puppies varies according to breed, sex, activity level etc.
Storage: Dry and cool. Keep the bag tightly closed after opening or store in a closed container.